After a decade and more in the wilderness, Aluminium is starting to have a renaissance from it's "fourth tier" material status. There are a number of boutique brands doing amazing high end builds with the humble metal and even some of the bigger brands like Trek have pulled tricks out of the bag with stunners like the Emonda ALR.
Over the next month we'll be celebrating Aluminium during our Aluminati month across the site and social. To kick off, we've picked 10 of our favourite alu machines heading into next year.
Trek Emonda ALR 5
3000 AUD
The Emonda ALR is now a couple of years old, but caused a bit of a stir when it first arrived as it was one of the few dedicated aluminium performance frames that the big brands had produced in a while – Cannondale excepting.
The Emonda ALR strives for a more classic shape, but also features heavily hydroformed tubing and insanely neat welds – the headtube in particular looks like in could be a carbon frame. The ride is comfortable enough for all day but is still very stiff and the standard build comes decked out with completely in house Bontrager kit and a full 105 R7000 groupset – although there is the frame only option if you wanted to go all out.
The price has crept up over the last year, but if you're looking for an Aluminium bike that's as capable of club rides as it is at cruising, then the Emonda is well worth a look.
Also a disclaimer that this writer owns one of these and is quite smitten with it.
Specialized Allez Sprint Disc
3000 AUD Full Bike, 1800 AUD Frame
The angry person's crit racing bike has had a few concessions built into it in the last few years including a new seat post design and a newly designed carbon fork. But while it can climb hills, go on club rides and do nice little excursions to the countryside… It's still an angry race bike at heart. Those welds are proudly on show and designed to make the bike as stiff as possible to drop every last possible watt and while it now has a carbon seatpost borrowed from the Venge, the Allez Sprint is not a comfortable bike. You sit on it, it gets its kicks, you get off. Grinning.
You can buy it as a full build, but we'd strongly recommend exploring the frame route if you have the pockets or the parts. Some of the builds you find online are outrageous in paint jobs and bling and near 7kg builds are testament to what the Allez Sprint is truly about.
Cannondale CAAD13
3500 – 4500 AUD
The CAAD has always been a well loved bike and one of the most popular models in Cannondale's line up. The 12 in particular became something of a go to for racers and crit riders. Cannondale tried something slightly different with the 13 in removing the 12's smooth lines and aping the heavily shaped tubes and dropped seatstays of their carbon bikes like the System Six.
The result is hate it or love it looks, but the ride is still amazing proving that Cannondale are still truly masters of metal. In Australia you can only get 105 or Ultegra builds as full builds.
Rose Pro SL
1800 – 3000 AUD
Rose may not have the cachet of that other German direct bike brand, but they sure make some fantastic bikes. While a lot of praise gets heaped on their carbon and gravel bikes (we're big fans of the Backroad), one of the quiet performers in the range is the Pro SL.
As you'd expect from a direct brand the price point is spot on, but what's really amazing is the frameset which is stiff and comfortable and everything that you would want from an endurance orientated machine. Also check out the welds which rival those on the Emonda. You can get rim and disc, but we just wished they offered some more colours.
Condor Italia RC Disc
2100 AUD (Frame Only)
The Italia RC Disc is the newest high performance aluminum bike from storied London brand Condor. While the brand may well be better known for it's steel tourers and track bikes, the super stiff Italia is a lightweight alu option for those wanting a metal bike to climb hills and crush KOMs.
There are definitely more affordable options on this list, but you're paying a premium for British design, Italian manufacturing and a beautifully finished frame. If you're after a classic looking bike with a modern ride, you should certainly consider the Italia.
Kinesis Aithein
1300 AUD (Frame Only)
While you can get the Aithein in a full build, for anyone looking for a light aluminium ride (we've seen 6.9kg builds) or just going crazy fast then getting the rim version as a frameset only is the way to go.
Freshly updated from the beloved EVO version of the frameset that came out in 2018, the Aithein is an amazing base for crit racing or fast club rides. Featuring clearance for 28mm tyres, a Colombus carbon fork and a threaded BB, the bike is a incredible value for such a quality frame and will suit those just getting into racing as well as far more experienced riders.
At 1300 AUD, quite frankly it's a bargain.
Ribble CGR
1800-3500 AUD
Ribble's CGR (Cross, Gravel, Road) has been a mainstay of the brands offering for many years now and while the Aluminium version was known for it's adaptability and generally being bomb proof the ride was slightly less inspiring.
The brand has completely re thought the newest version with bigger tubes, dropped chainstays and clearance for bigger and multiple tyre standards – the new version will take 650B, 700C or 29 wheels and tyre sizes up to 700×40. While you're not going racing on it, it's a great bike for commuting, bad roads or even gravel adventures and bike packing with loads of mounting points.
Price has always been great for Ribble bikes, even to Australia and you can get builds ranging from 10 speed Tiagra all the way up to full Ultegra.
Mason Definition
5250-11000 AUD
There's a few contenders for the most expensive bike on this list, but the Definition definitely ticks the box of most boutique and aluminium as artistry.
The eponymous brand was started by the former lead designer at Kinesis and their bikes quickly made a name for themselves for their attention to detail, their performance and their head turning looks. In it's first release the Definition stood out as a metal bike that was billed as an all rounder with disc brakes when that kind of thing was pretty rare.
Fast forward a decade and the design has been tweaked to keep in bang up to date, although they're still using fancy Dedacciai tubing for the frame. For an aluminium bike it's an insanely smooth ride if you have deep enough pockets.
Also, did we mention it's very pretty?
Van Rysel 900 AF
1499 AUD
To provide some contrast to the Definition and rounding off this list is the cheapest bike – the 900 AF from Decathlon's in house Van Rysel brand. Over the last couple of years Decathlon have completely rebranded their road bikes from B'Twin to Van Rysel (presumably to make them sound more Belgian and fancier) and gave the whole range an update.
The old B'Twin bikes were well respected for the price range and the new Van Rysel doesn't disappoint. For 1500 AUD you get a stiff aluminium frame, a full series 105 groupset with rim brakes and a Shimano RS100 wheelset.
At 9.2kgs for a large, you're not going to be winning any weight weenie awards, but it's a great riding bike for the money and well worth looking at if you're looking for your first proper roadie.
Bowman Palace 3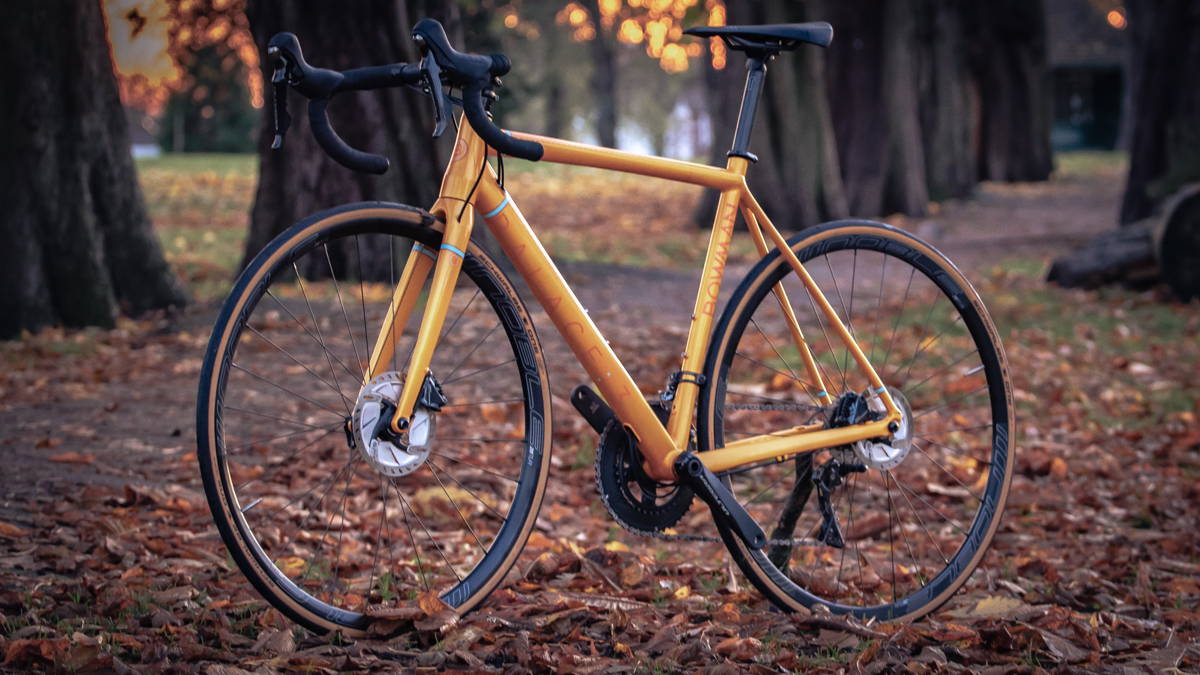 1300 AUD
Anybody reading through this list might think that we have a weakness for bikes made by British blokes (probably with names like Gaz and Tezza) banging bits of metal together in a shed. Well – it's true.
While the stereotype isn't particularly accurate any more (these are all well funded, professional companies with fancy machining), it is true that there's still a lot of Aluminium frames that come out of the UK. One of the newer brands on this list is Bowman who started with a squat, single minded beast of a bike called the Palace. It the newest guise it's still designed to be absolutely thrashed even if it has got slightly more refined with modern standards and the inclusion of discs.
Well worth a look if you're looking for an alternative to a Sprint – that orange sherbet colour is on point too!